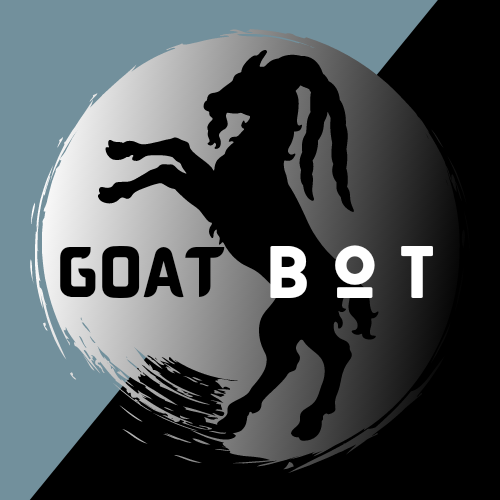 Goat - Guild Guardian
Serving 462 Servers
Invite Me
---
---
Home
---
Welcome
Goat - Guild Guardian
The only Discord bot you will ever need.
You can use the Goat Dashboard to configure a variety of Goat settings for your Discord servers.
Additionally, members can view and edit their Goat Profiles, view leaderboards, play various games and check and claim rewards.
About Goat
Check out the About page to learn more about Goat and his many features.
Goat Credits
Check out the Credits page to learn more about the people who had a hand in designing Goat.
Goat Documentation
Visit the Documentation page to learn how to configure Goat in your server.
Dashboard
The dashboard is where you configure all guild-specific Goat settings.
We recommend checking the Goat Dashboard page periodically for new features.
Commands
Goat provides a significant number of commands for a variety of tasks.
All available commands are listed on the Commands page.
Goat status
You can get various statistics for goat on the Status page.
Statistics include bot version, guild and member count and resource usage.
---
Goat services
If you are a member of any servers which use Goat, you can take advantage of the following services:
Goat Bot Listings
Goat and the Goat support server are listed on various Discord bot lists.
You can vote for Goat on most bot lists to help him gain popularity.
You will additionally earn 10000 Goat coins for each vote you submit on supported lists.

Check out the Goat Bot Listings to vote for Goat.
Goat Profiles
You can view your Goat Profile online.
If you have not yet customised your Goat Profile, use the Profile Editor on your profile page or the "editprofile" command.
Embed Builder
The web based Embed Builder is the perfect way to send an embedded message to a channel on any of your Discord servers.
You can customise your embedded messages the same way you would using the embed command.
Goat coins balance
You can check your Goat coins Balance online.
Goat rewards
You can check your Goat Rewards cooldowns online.
You can also claim your Dashboard Daily reward.
Goat games
You can play some of Goat's Games online.
Note that you can only play with the balance in your wallet.
Goat rich list
You can view the Goat Rich List online.
Goat leaderboards
You can view the Goat Leaderboards for each guild Goat is a member of.
The online leaderboards provide much more information than the leaderboard command.
---
Donate
Lots of time and effort goes in to building and maintaining Goat.
We would be grateful if you could find it in your heart to donate a small amount to the cause.
Your donations help keep Goat healthy, well fed and surrounded by loyal support staff and moderators.
They also enable us to provide all of Goat's features free of charge, with no premium subscriptions.
Donate To Goat
Terms
Goat is governed by terms of service and a privacy policy.
Before you use Goat, you should check out the Terms Of Service to be on the safe side.
Check out the Goat Privacy Policy to learn more about how we keep your data safe.
---
Support
Get support for Goat on the official Goat bot - Support Server.
---
---
© 2021-2023 CodeGoat