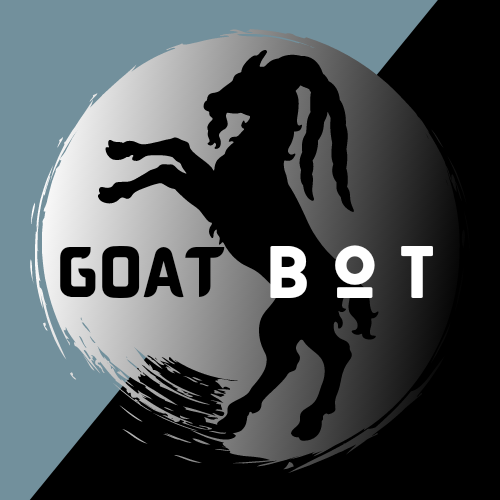 Goat - Guild Guardian
Serving 404 Servers
Invite Me
---
---
Home
---
Terms Of Service
By using the Goat bot or accessing the website (https://goatbot.org), you agree to be bound by the terms of service set out below.
If you do not agree with any of the terms outlined in this document, you should not use Goat or any accompanying services.
Disclaimer
CodeGoat does not make any guarantee concerning the accuracy, results, reliability or stability of Goat or any materials or services provided by Goat.
The Goat Dashboard is part of the Goat bot and is directly integrated, so should be considered to be inferred by any mention of Goat unless otherwise stated.
The materials provided by Goat and by extension the Goat Dashboard could include technical, photographic, or typographical errors.
CodeGoat works hard to ensure any features or commands which make changes to your Discord servers are thoroughly tested, but does not guarantee the fitness of any of Goat's features for any particular purpose.
CodeGoat is not responsible for any unexpected changes Goat may make to your Discord server during your use of administration and moderation commands or automatic moderation features.
Information Accuracy
CodeGoat does not guarantee that any of the materials Goat provides are accurate, complete or regularly updated.
Changes to the services and materials provided by Goat may be made at any time without prior notice.
External Services
Goat makes use of various external services to provide some of his functionality.
These features include web APIs and third party services to provide features such as music playback, Reddit watching, Covid stats, weather, currency conversion and more.
External services used by Goat may be altered or discontinued at any time by their respective providers.
CodeGoat does not guarantee the fitness of any such external service at any given time and will not provide support outside of code maintenance for such services.
Privacy Policy
Goat is governed by a privacy policy.
We recommend viewing the Goat Privacy Policy to learn how we collect, store and use data.
Withdrawal
You have the right to withdraw from the terms outlined in this document.
If you choose to do so, you must stop using Goat and all accompanying services.
You should remove Goat from any Discord servers you own and request removal of any additional information via the Goat support server.
---
Support
Get support for Goat on the official Goat bot - Support Server.
---
---
© 2021-2023 CodeGoat