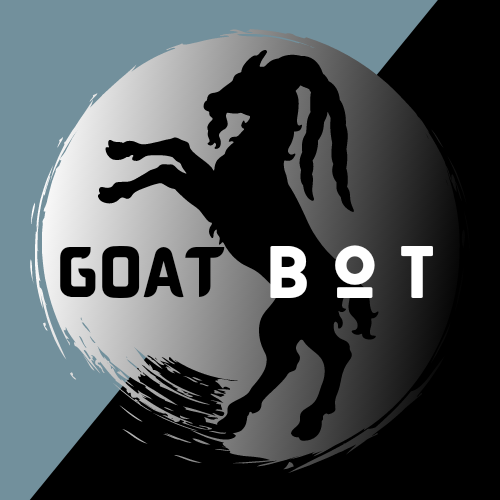 Goat - Guild Guardian
Serving 372 Servers
Invite Me
---
---
Home
---
Online Documentation
Welcome to Goat.
This documentation will help you get started with Goat, as well as configure his more advanced features.
A comprehensive set of guides is available here to help you get started with Goat.
You will learn the basics including inviting Goat and ensuring he is able to manage your server, member welcoming, reaction roles and levelling.
You will additionally learn about the more advanced Goat features such as automatic role assignment, levelling roles, Goat Tickets, Private Voice Chat, Goat Starboard and message filters.
The documentation is split in to chapters.
Each chapter contains a number of topics.
Available Chapters
---
Inviting Goat
The topics below will help you invite Goat to your servers and ensure he is able to perform management tasks.
If you're familiar with inviting bots and configuring roles, you can safely skip this chapter.
Select a topic to start.
Inviting
Before you can use Goat, you will need to invite him to a Discord server.
Once invited, you can begin customising your server and providing your members with access to the many features provided by Goat.
The instructions below will help you invite Goat to your server.
Click the "Invite Me" link at the top of the Goat Dashboard.
If prompted, login to Discord using an account with the "Manage Server" permission on the server you want to invite Goat to.
Select the server you want from the dropdown and click "Continue".
Confirm that you want to grant Goat the "Administrator" permission in the server and click the "Authorize" button. You can adjust permissions later if necessary.
Complete the security challenge to finish inviting Goat.
Next Steps
After inviting Goat to your Discord server, you will need to make some adjustments to ensure he is able to properly manage roles and members.
You should additionally adjust command permissions to suit your needs.
Note that default command permissions are defined to ensure unauthorised members are not able to run administration and moderation commands.
The instructions below will guide you through the required changes.
In Discord, locate the server you selected when inviting Goat.
In server settings, navigate to the "Integrations" page and click the "Goat" button.
Configure command permissions to suit your needs.
Navigate to the "Manage Roles" page and click the "Default Permissions" button.
Locate the "Goat" role which should be near the bottom of the list.
Move the role to the top of the list by dragging it in to position.
Save the changes and close.
Goat will now be able to manage your roles and all server members.
---
Support
Get support for Goat on the official Goat bot - Support Server.
---
---
© 2021-2023 CodeGoat